1) Last evening Fred Fox came to the middle of our lower lawn and seemed delighted to have discovered a bowl of "Fox Food" by Waitrose waiting for him. Instead of gobbling it down with gusto, he crammed as many chunks in his vulpine jaws as he could and ran off to hide them some place. Then he came back for the rest. As you can see, I managed to snap him in the fading light tonight - through our kitchen window.
Mmmm! "Fox Food"! It's delicious!
2) My friend Higgy remains in diagnostic limboland. Didn't Hamlet say "Osteoporosis or bone cancer, that is the question..."? He obliged me to do something I haven't done in twenty seven years when I popped into the "Spar" shop at Hunter's Bar to buy him two packs of "Embassy Number One". £10.15 per pack makes each cigarette cost over fifty pence. I would have been happier buying him food supplies but Higgy's relationship with food is unusually difficult. The same is not true of his relationships with tobacco, lager and waccy baccy.
3) Sepp Blatter has resigned as President of The FIFA Gravy Train. He is trying desperately to depart with dignity when he knows that the legal wolves have him in his sights and are starting to circle. His deluded daughter Corrine imagines her daddy is being cruelly victimised.
There was an old trickster called Sepp
A pirate just like Johnny Depp
On June the Second
When he heard The Grim Reaper's quickstep.
Minotaur mosaic at Knossos, Crete
4) We may be off on a Mediterranean holiday in the next two weeks. I am looking at good deals in Crete - opting this time for a "package holiday" rather than the tailored kind of trip I frequently create via the machinations of the internet. Sometimes a package can work out cheaper and I think this will be the case with Crete. But it is still not booked yet.
5) Yesterday Shirley had a "once in a lifetime" experience - attending a garden party at Buckingham Palace in London. This year is the centenary of The Women's Institute and every branch in the country was allowed to send one rep. I believe my mother went to the fiftieth anniversary party, representing my home village's W.I. in 1965. The Queen wasn't hosting yesterday's event - it was instead The Duchess of Cornwall. I bet she didn't have to spend forty five minutes in a lavatory queue! Eight thousand women! If I had been there I would have had a jimmy riddle in the rhododendrons with the corgis.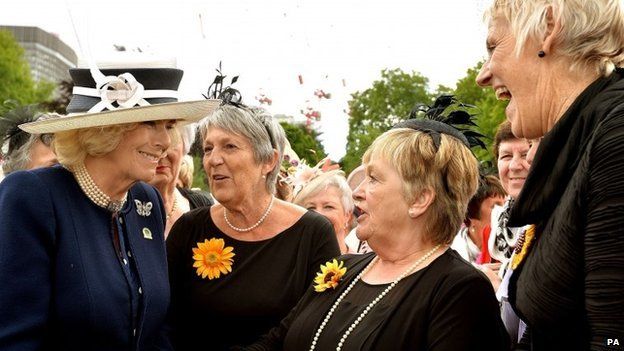 The Duchess of Cornwall sharing dirty jokes with The Calendar
Girls at yesterday's WI Garden Party. Have you heard the one
about Adrian and the vicar's wife in a camper van?