Assassinated yesterday morning at the altar of Saint-Etienne-du-Rouvray's Catholic church, Father Jacques Hamel was eighty five years old. The cowardly assassins made him kneel before slitting his throat. A witness said they were callously recording the event on a mobile phone as she slipped out of the church. to raise the alarm.
The contrast between his selfless life of service and the cruel ignorance and wickedness of his killers is very sharp indeed. He was an old man, peacefully serving the community in a place of worship, while they were self-obsessed young thugs whose heads were filled with tidbits of a warped theology that has nothing to do with any proper religion. In his life he had done so much good but in their lives they had done nothing of note or value.
But let us also not forget those who were killed in north eastern Syria just a few hours later. in the Kurdish town of Qamishli. A truck bomb exploded killing at least forty people and injuring countless others in a terrible act that was down to the so-called Islamic State - just like the murder of poor Jacques Hamel in the suburbs of Rouen.
Where is all this horror leading us and how will it end? I am sick to the stomach of hearing news item upon news item about fatal atrocities. You wonder what's next. Both of my grown up children live and work in London and it is surely just a question of time before our capital city is hit once more by these mad nobodies. I hope my kids are not nearby when it happens.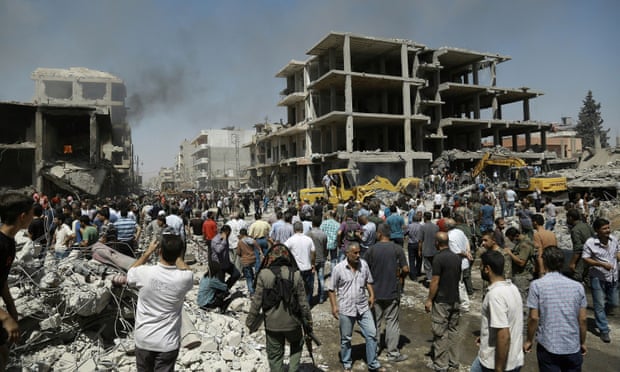 Qamishli this morning